Props/Set Dressing for Theater:
Below are three examples of "severed head" props all taken from casts I made of the actors' faces. This first one, known as Dead Jeff by area thespians, is a dummy prop created for the musical "Curtains" at the Warner Studio Theatre. I took a plaster cast of the actor, Jeff Savage, and used liquid rubber latex for the face. I then painted and attached it to a foam head and added white fur for the hair. He was then attached to a sandbag costumed in tuxedo shirt/pants, as the character is hung by curtain rope at the end of the first act.
The best compliment I got was from actors backstage. They felt the need to cover Dead Jeff's face while he was on the props table because he was too lifelike.
Since then, Dead Jeff has shown up in numerous area productions, including: Young Frankenstein, Arsenic and Old Lace, and Sweeney Todd.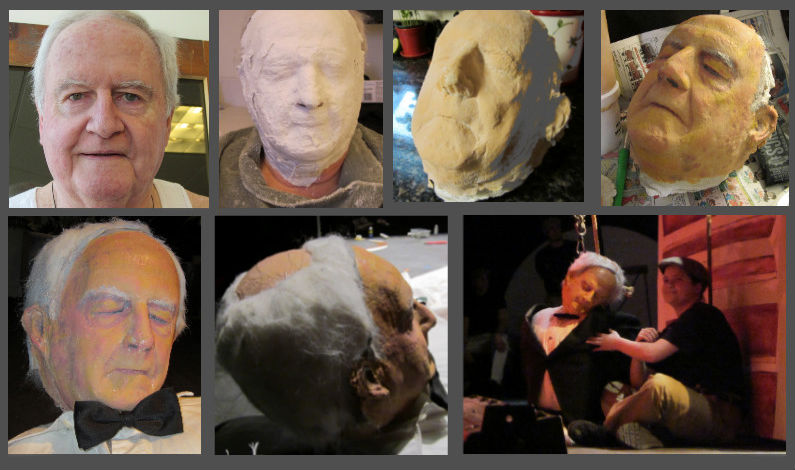 Below is the Eva Peron corpse for the Warner Theatre's mainstage production of "Evita." She was built in the same way as above.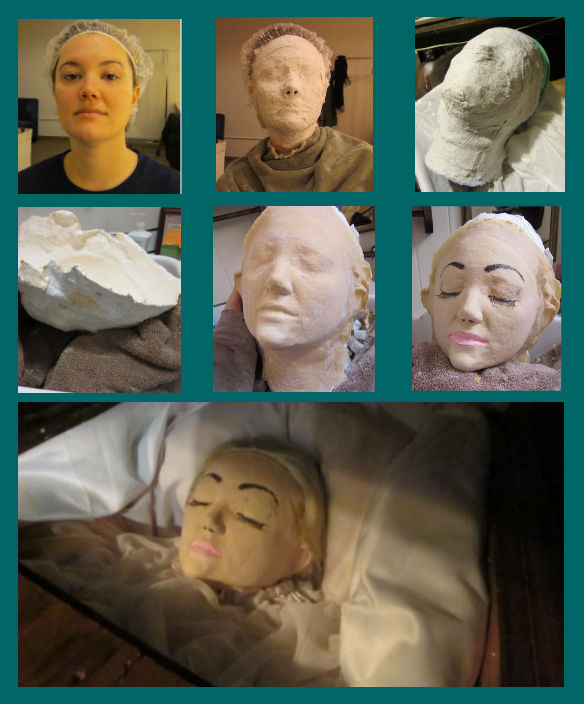 Production still (photo: Warner Stage Company/Luke Haughwout) from Reefer Madness in the Studio Theatre showing Sally severed head prop. This one was a bit of a challenge, as I opted to have her mouth open:
if you're sensing a theme here…I don't blame you for that, but when we got to do a second production of Evil Dead, I got to make yet another head:
I show this movie still from EvilDead to show the image I was inspired by to recreate this embroidery for our stage. Added an "easter egg' to my prop for the diehard fans…
hard to read, but it's signed "1970" Henrietta." It's on scrim fabric and could be lit from behind for a cool effect if a director wanted:
No production would be complete without a severed head! Once again for Gentleman's Guide to Love & Murder on the Main Stage of Warner Theatre (actor: Jonathan Jacobson):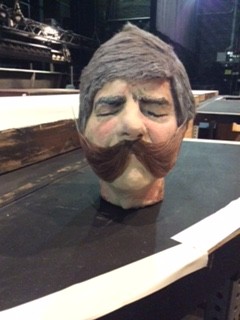 Rats poster board prop for "Reefer Madness." This was used in the song "Murder" when rats sing "You murdered them. Ralph!" Red LED lights for the eyes were added later.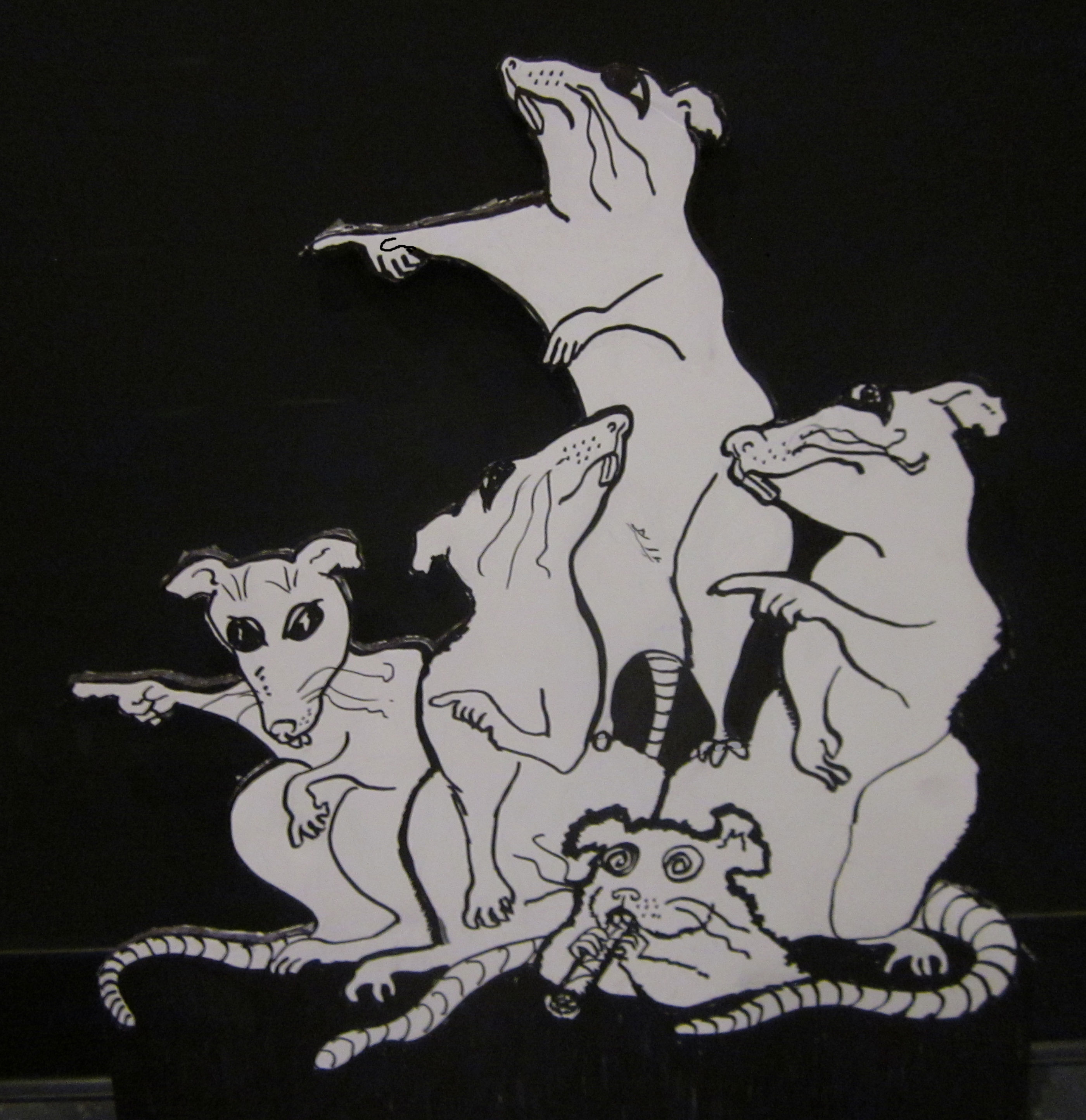 Props for Something Rotten, Warner Main Stage, 2019:



Jekyll and Hyde, Lab table set dressing, Warner Main Stage, 2020: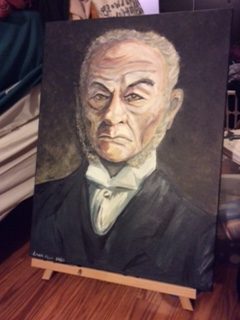 …also from Jekyll & Hyde is this fetal skeleton made from masking tape! In the photo below you can see it on lab set shelf to the right of the right box: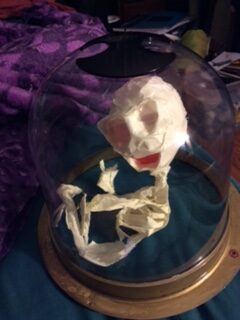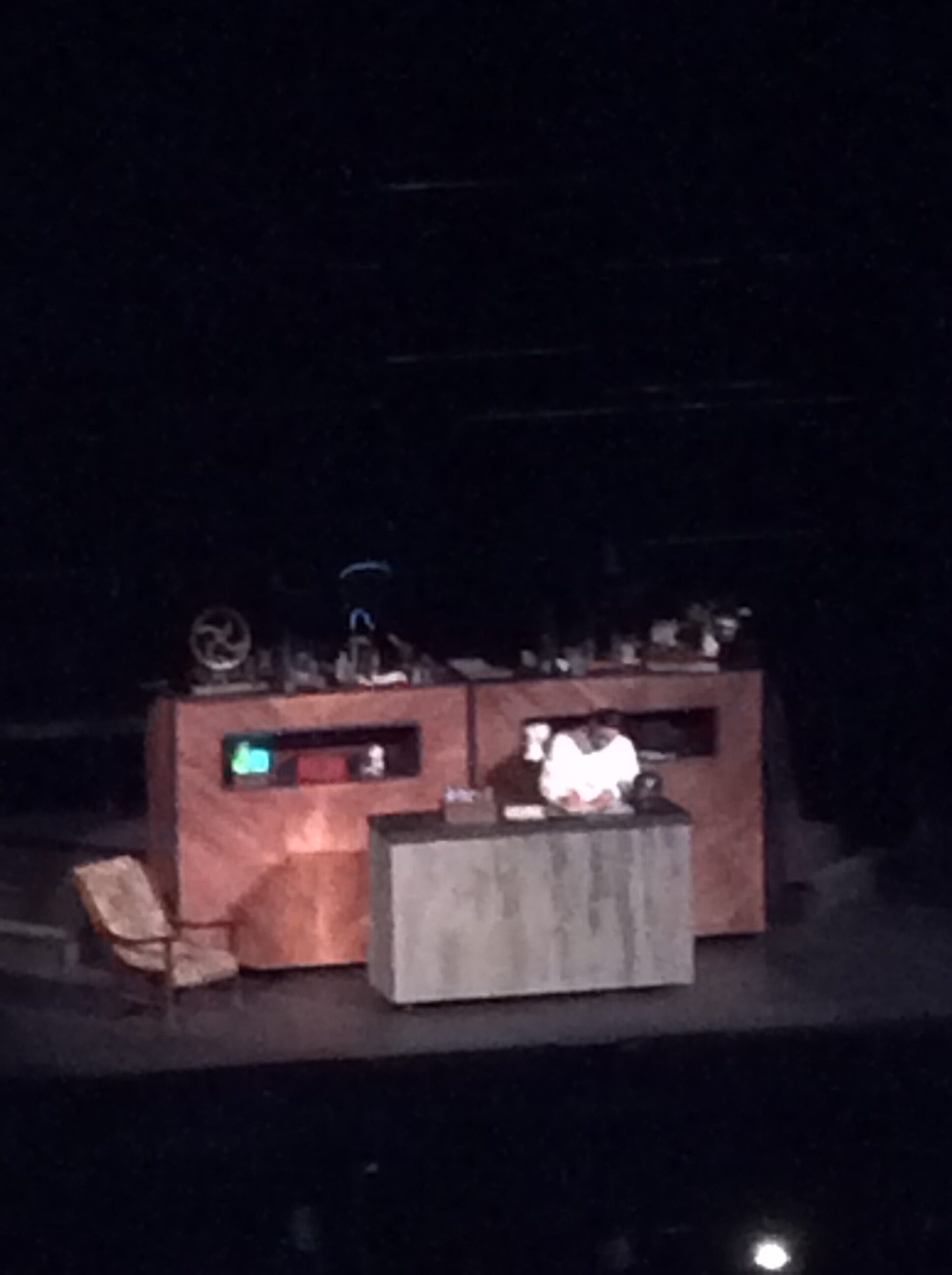 The cow and the moon were made for the main stage production of "All Shook Up." They were painted free-hand based on photos of the moon and various cow images.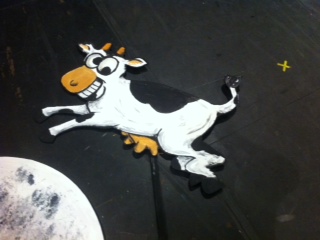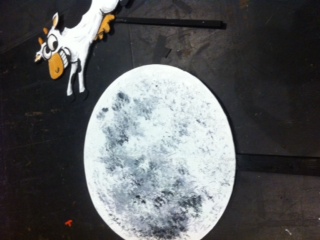 Below is a photo of Warner Theatre's mainstage production of Peter Pan. I covered a chair with pipe insulation tubes that I then hand-painted to look like bamboo. These bamboo pieces were also featured in other areas of the scenery. (photo: Warner Stage Company)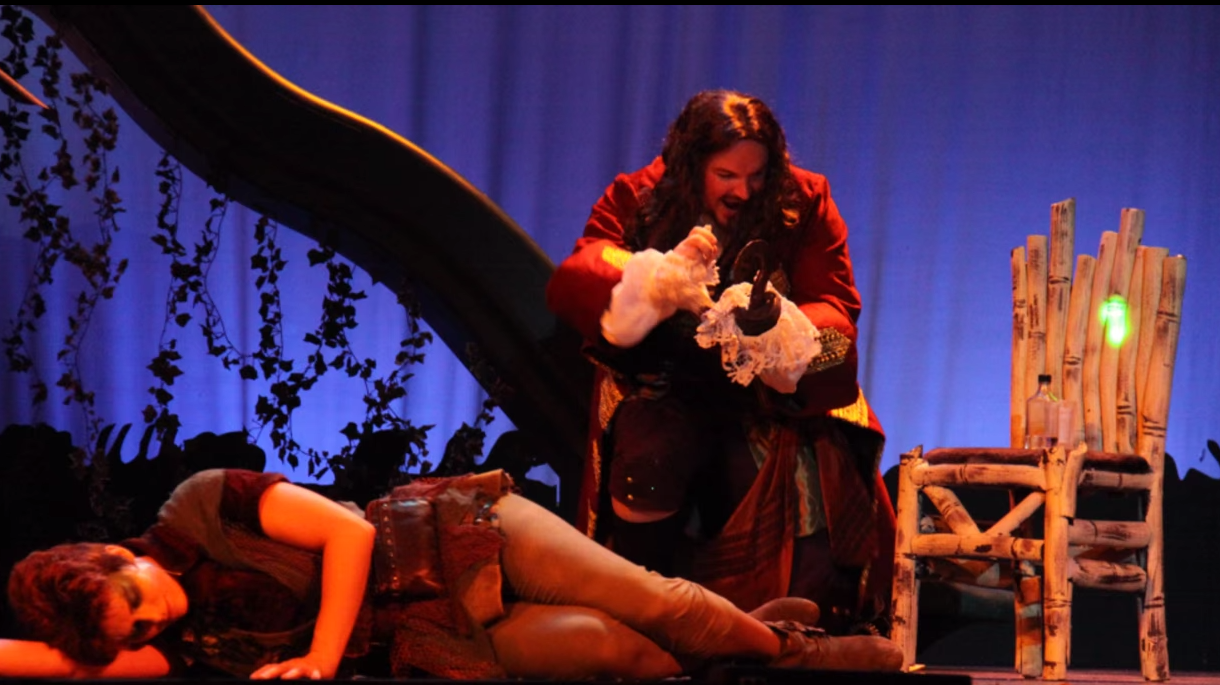 Below is a Ford Model T for the mainstage production of "Ragtime"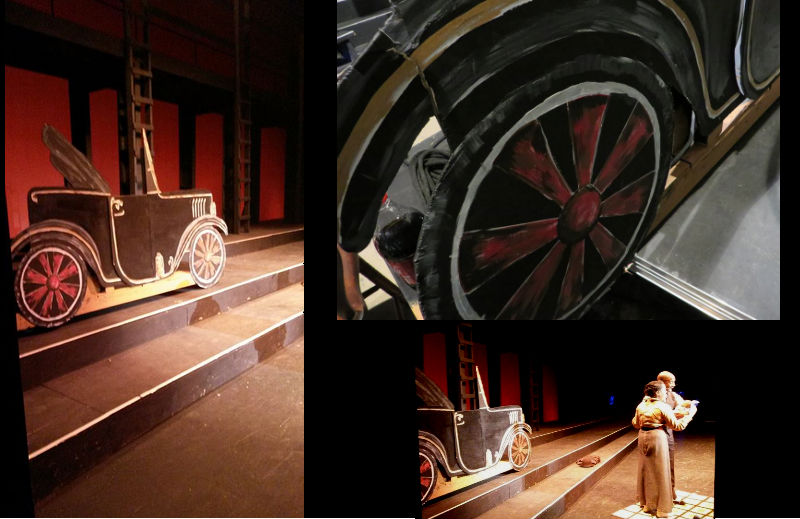 Trunchbull's trophy for Landmark Community Theatre's 2019 production of Matilda at Thomaston Opera House:
A toy plane I made for a Warner main stage production of Tommy. And you might be able to see it onstage in this shot taken from the balcony…
For Suessical, the Musical on the mainstage, I made a Horton sign and a fun hand toy:
Here's another pointer finger I made for fun and was never used for a production…yet: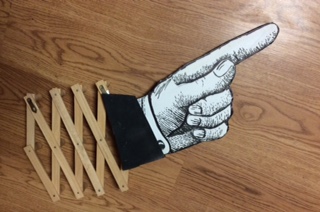 I painted ten trees for the Central Park scene in Addams Family mainstage production: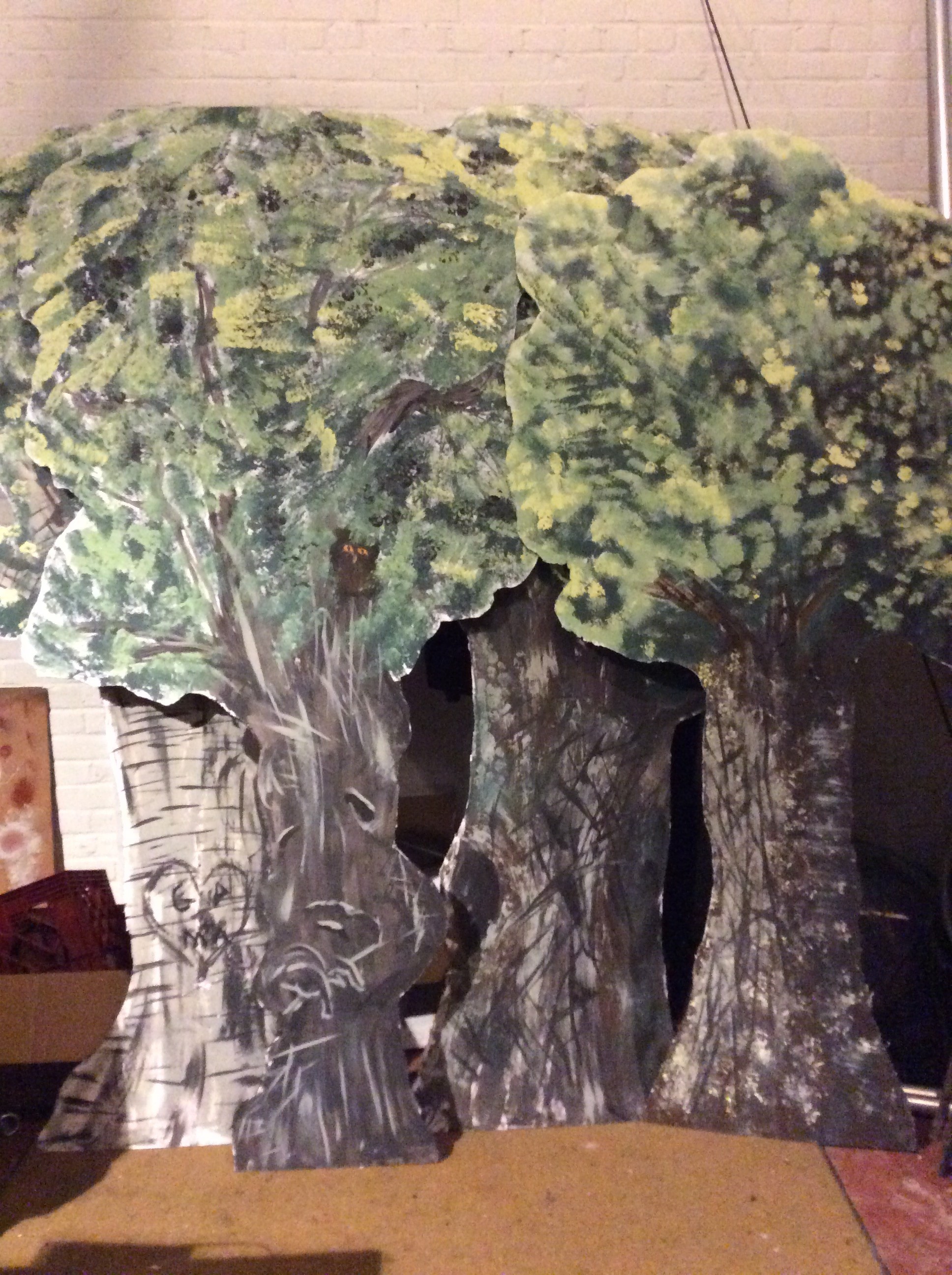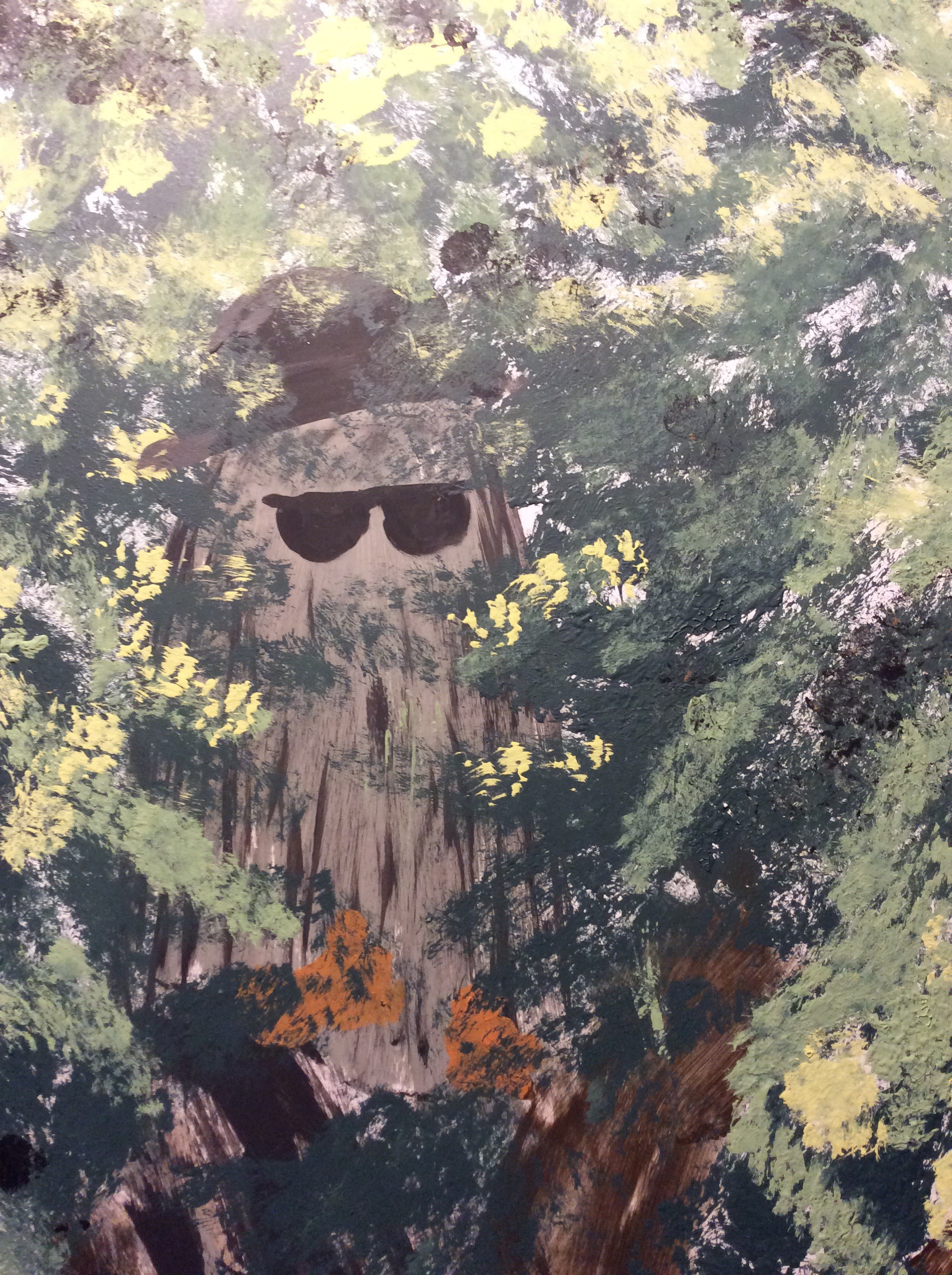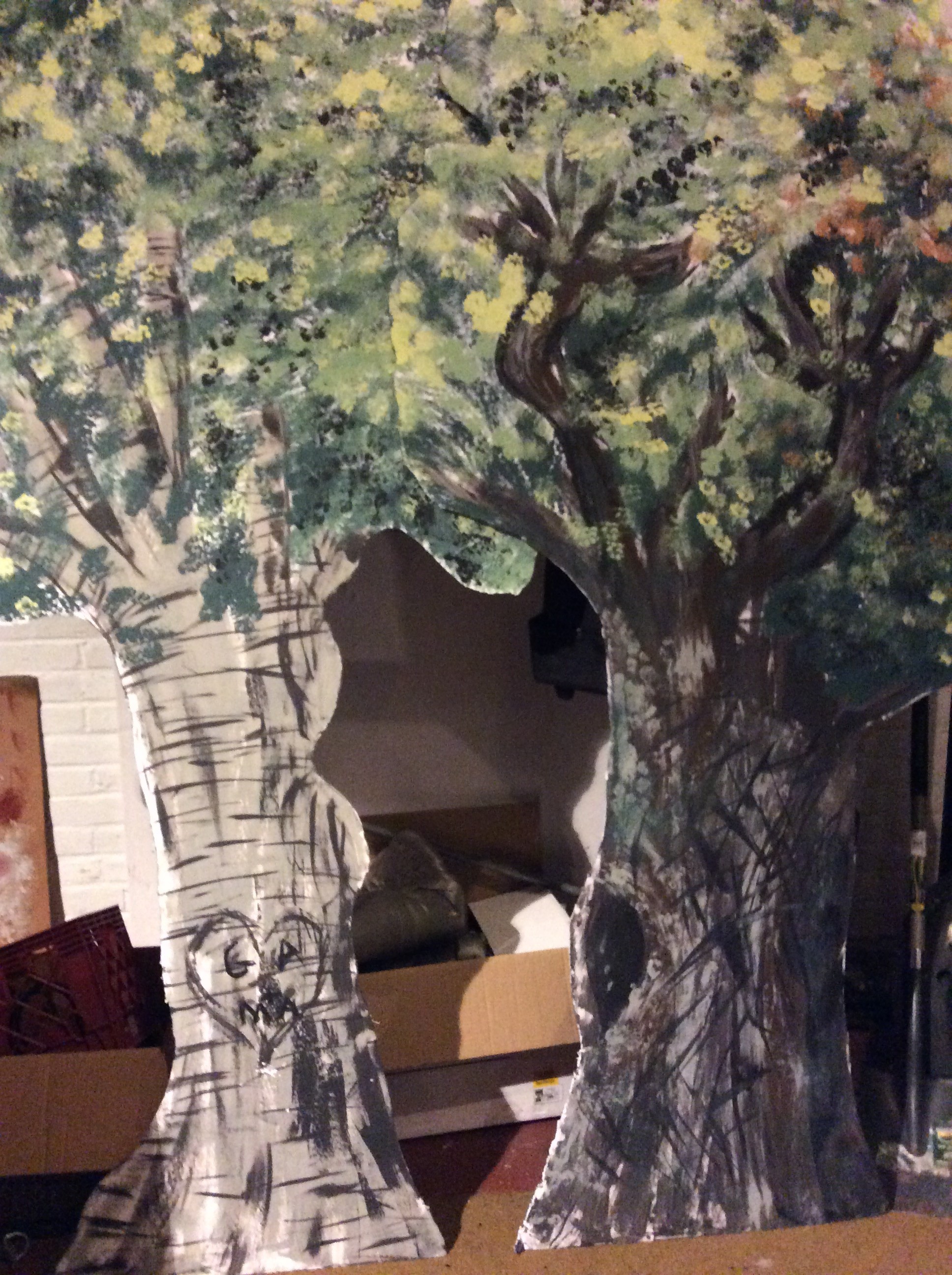 Below is a small case that I painted to match the large green one we had, and was used in Addams Family.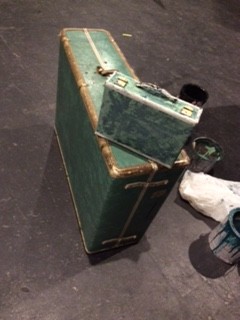 Below is a poster based on the 1930's Art Deco style for Warner Stage Company's Studio Theatre production of The 39 Steps: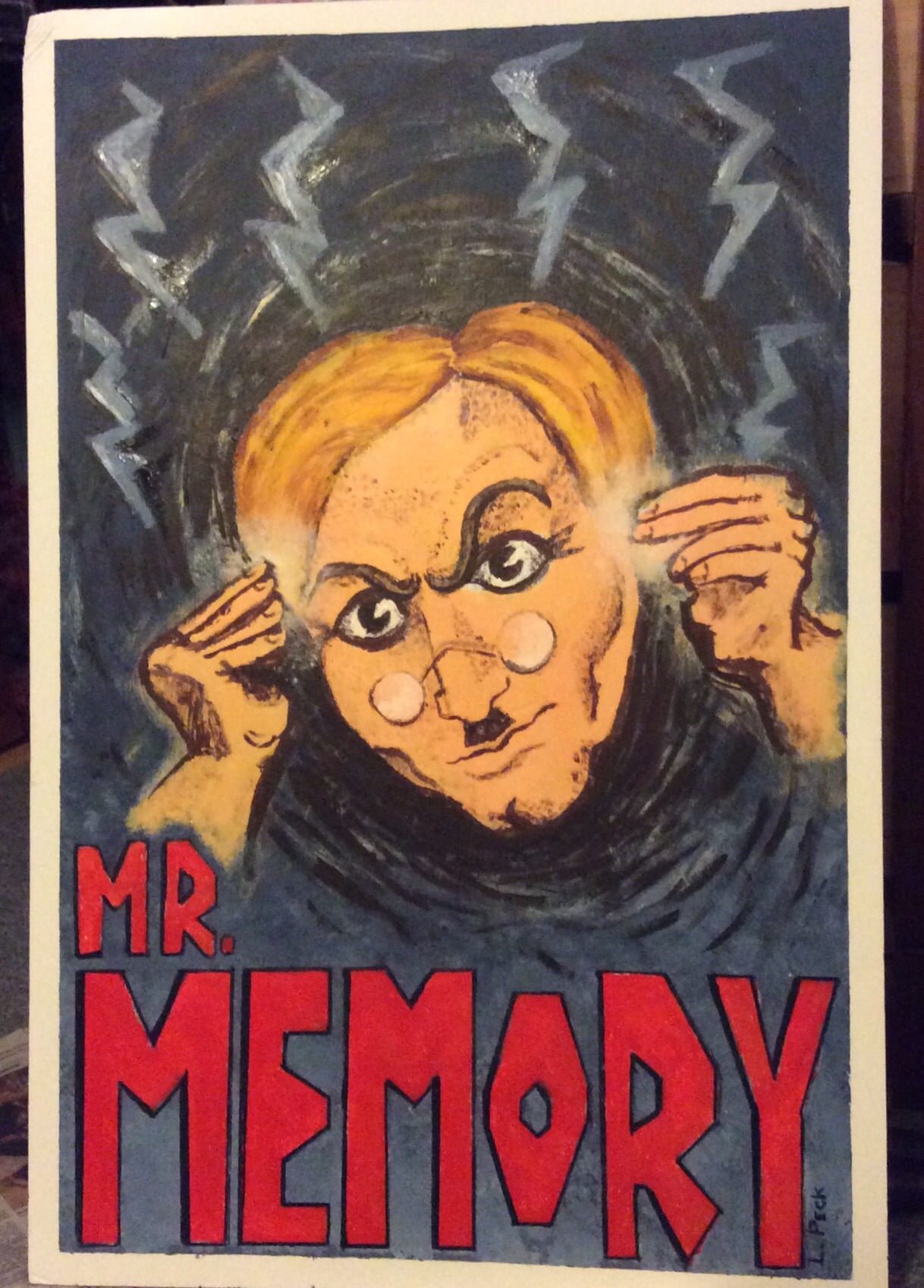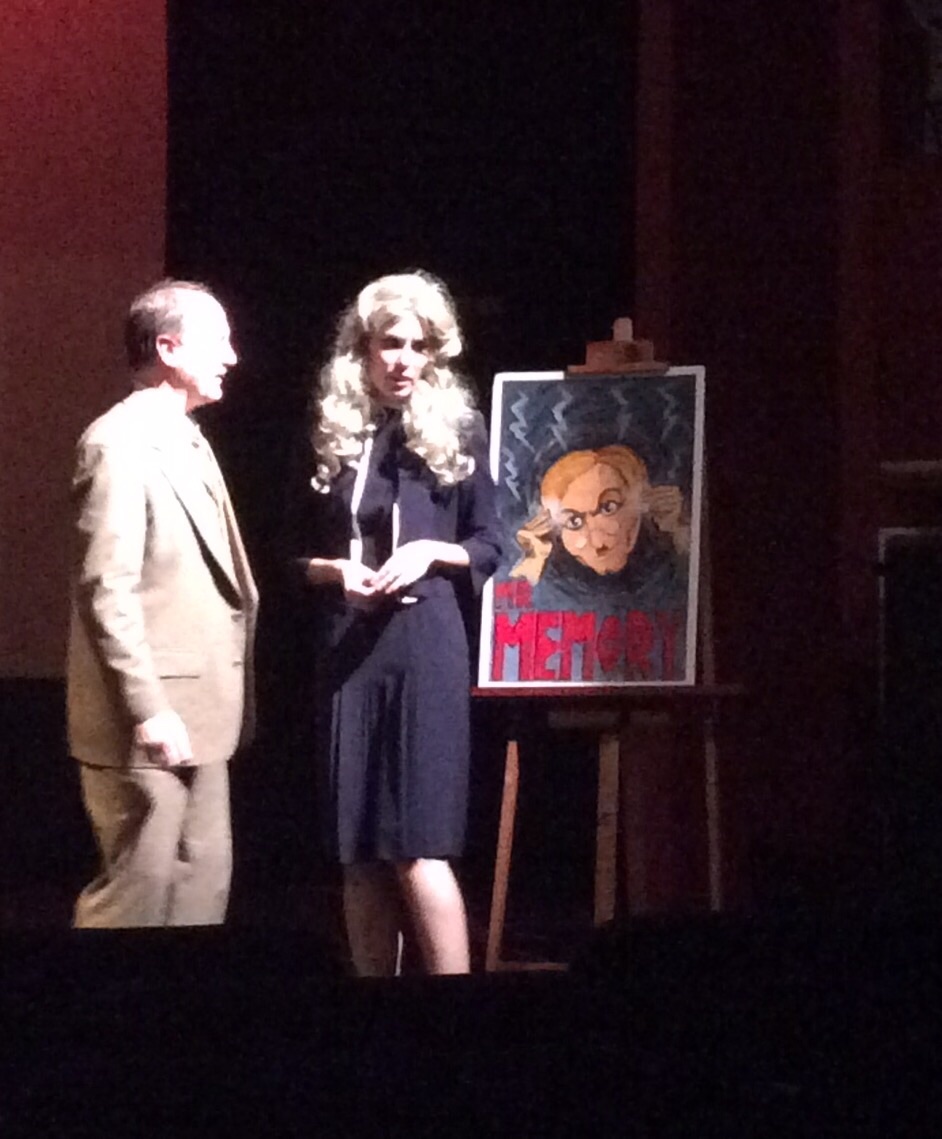 A digital sign I made in Quark for a Poster for mainstage production of Rock of Ages:

More Rock of Ages flyers that decorated the inside bar set. These were either hand drawn or digitally pieced together as you would "back in the day" 1980's.
My favorite was this one…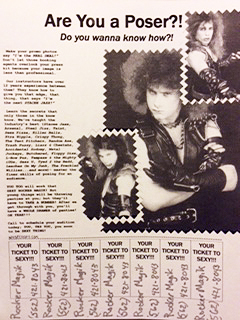 And the model for the new mall on Sunset Strip from Rock of Ages. Made from plastic and various scraps.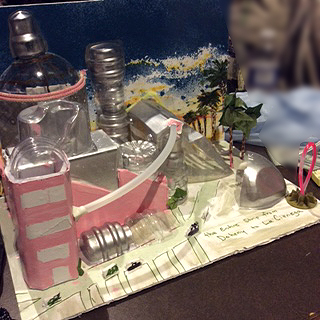 Props made or altered for Ken Ludwig's The Game's Afoot (Holmes for the Holidays):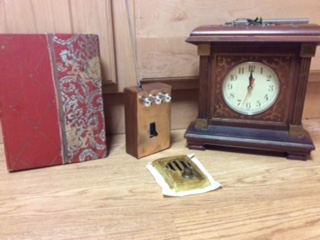 Below are some pieces for Landmark Community Theatre's 2019 production of The Miracle Worker:
Fake fly paper for the play, Bug 20222 at Warner Studio Theatre: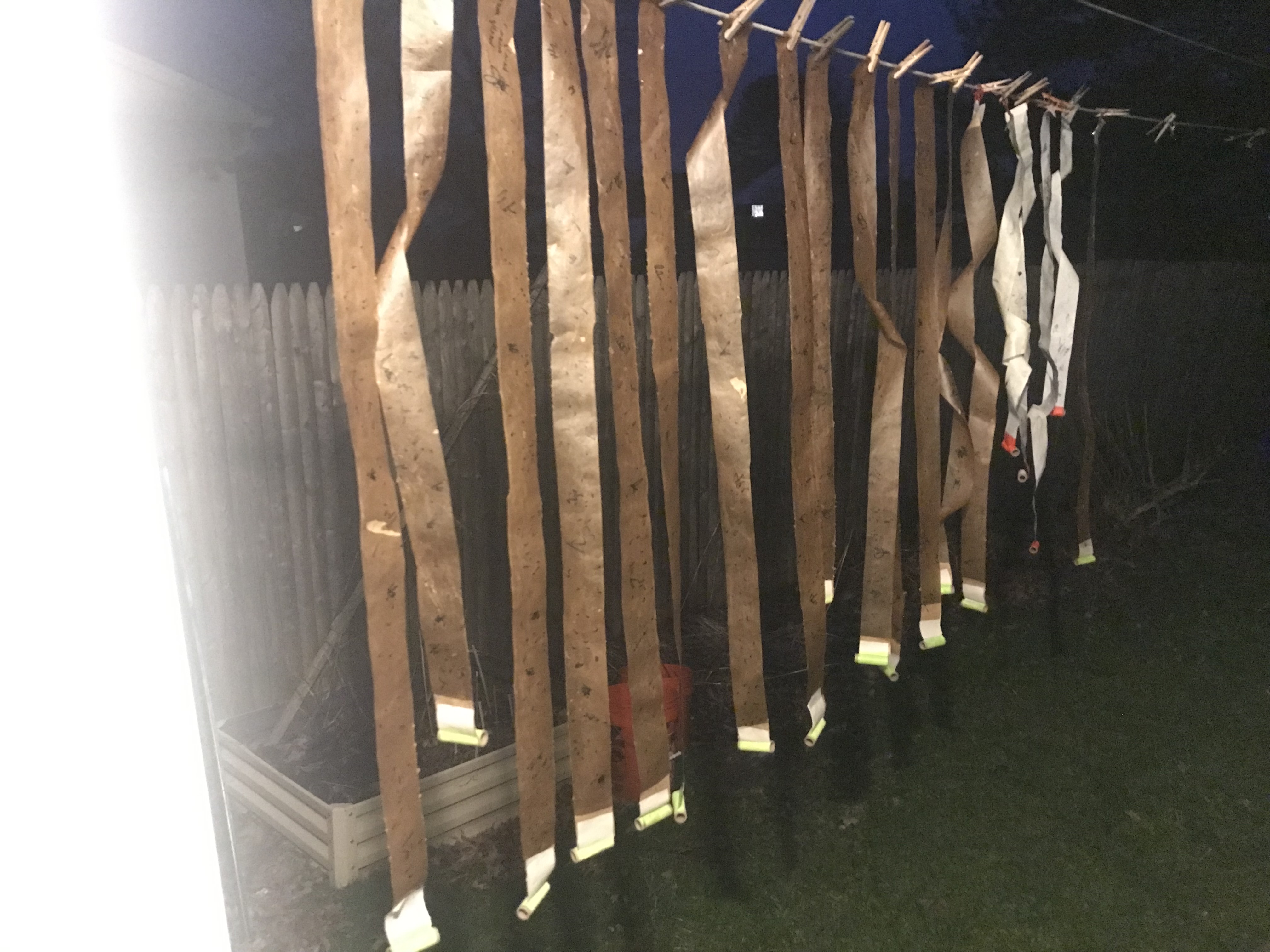 Another digitally created item for the Warner Studio Theatre. DAZ Washing Powder label for Calendar Girls: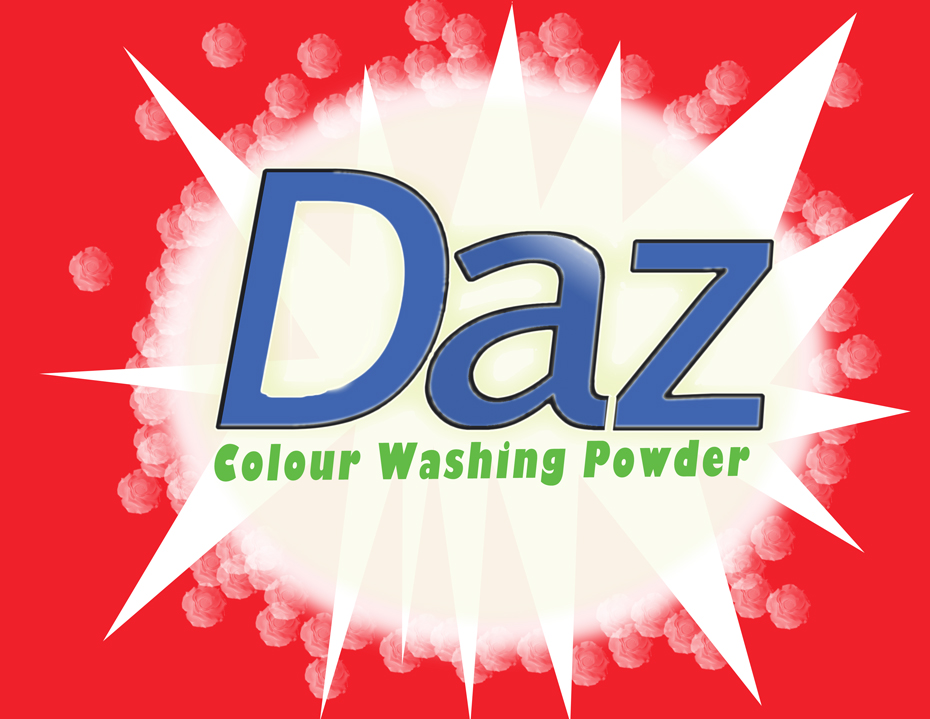 A K9 prop made to look homemade that I used for a GlumPuppet/Dr. Who performance at ConnectiCon.